(Note: the pics in this friggin' post came from The Ambassadors' page at Myspace.com)
Waaaaaaaahhhh...packin' friggin' sheet...last and last and last week I registered to this group in yahoo that's consisted of "
The Ambassadors
" fanatics. I have actually found The Ambassadors links and sites from this kindhearted guy in friendster. I forgot his name since he is not in my network but thanks to him I found lots of pics and I am updated to the latest gigs and happenings of this friggin' band...
And well this Friday I have a plan to go to Handuraw Cafe for FasPitch Album launching since almost all popular bisrock bands will be there...yeah...
The Ambassadors
will be there along with Urbandub, Still Techisoba vs. MIDI OK, Anino & Onemandown. Weeh...and guess who's the organizer of Earth Day Show at Handuraw this April22?...tantaran...it's Rudy Dulera...one of my friends and officemate at the same time...hahaha...packin' sheet eh?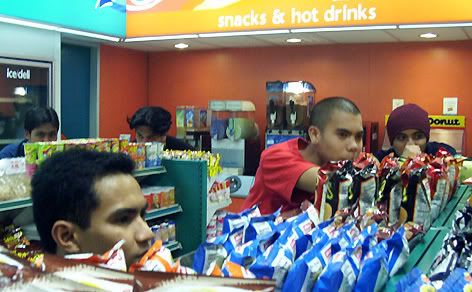 One night of celebration for mother earth this April 22, 2006 Saturday at Handuraw Events Cafe...the events are...slide show of the my earh tour campaign, fashion show by Rudy Dulera and Dimples Jakosalem, performances by Soul String, Bagong Tribo ni Jan Allah, Balde ni Allan, Coolie Dread and the Microphone Commanders, Maharlika, Zarah Smith, Cattski, Missing Filemon, Aggressive Audio and more!...waaaaaaaaaaahhhhhhhhh....
This week will be one friggin' piece of sheet...that is if I can go there...you should know that I'm no rich...I mean I'm not born with golden spoon in my friggin' mouth...What I really mean is I'm such a very horrible poor...poor...piece of friggin' shit...you know what I mean?...and now my playlist goes back to the very first track...err...that means this is enough for now...err...ciao mortals...